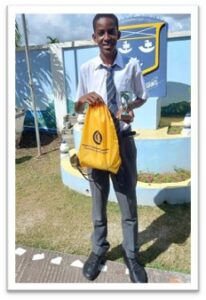 I am Camron Blache, a fourth form student of the St. Andrew's Anglican Secondary School (SAASS). Presently I am studying eleven subjects. At the end of last term, I had an average of 82.0.
At school I am a prefect, a member of the Student's Council, and a member of the school's Drum Corp. I am currently in training for the school's basketball team.
I am serving as Vice President of my church's Youth Ministry and I am a member the St. Andrew's Basketball Fraternity (SABF). In my free time I enjoy playing basketball and video games, listening to music and interacting with others.
In 2021, I participated in the Caribbean Youth Environment Network – CYEN/GIZ essay writing competition and placed first in the 10-13 years category. The essay focused on the key ways in which we can reduce our water consumption and become more water conscious. Earlier this year I participated in the ECCB/RSS-ARU Creative Youth Poetry Competition and was awarded Best In country piece for Grenada in the 13-16 age category. My poem was based on the theme "My vision for My Caribbean Home". I wish to express sincere thanks GRENED and to my sponsor for investing in my education.