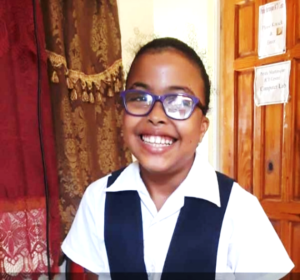 Mika Bethel
Cheerful, Talented, Artistic and Loving are just a few words to describe this eleven-year-old aspiring Artist from the tiny island of Petite Martinique where she lives with her parents and two brothers Joshua & Thierry.
Throughout her primary school life Mika has shown resilience and determination. Her favorite subjects are Language Arts and Science. She participated in various art classes and projects including the painting of the beautiful ocean mural on the walls of the Island's only tennis court. She is a member of the swim team and also sings in the choir at her church. Mika loves singing and has already written her first song at the age of ten.
Mika started drawing as soon as she was able to hold a pencil/crayon and would spend most of free time drawing or coloring. She loves making cards of all sorts and would have one for each Birthday, Valentines, Christmas: whatever the occasion she is prepared to do so.
Because of her passion for Art, she is determined to find a career path that would allow her to explore the world of art and design every day. She plans to write and illustrate children's books and create beautiful Art.
She would like to encourage others to believe in themselves and not be afraid to use their God given talents.