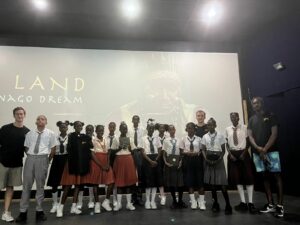 On Friday March 17th, some of our students attended the New Life: Kalinago Dream event at the Deluxe Cinema in Grenville. This Event was based on a Grenadian film of the indigenous people of Dominica, who are fighting to preserve their history and culture among the rapid modernization and invasive cultures that threaten their survival.
The film is a joint effort between Grenadian film maker and Creative Director of Grenada film company, Teddy Dwight Frederick and German Production company, Time of Motion. Film maker Frederick stressed on the importance of keeping the Kalinago conversation alive.
According to dominicanewsonline film maker Frederick said "Grenada also has a lot of beautiful stories, and we also have Kalinago ancestry and history, and it will be nice to tell our side of the story." The film was released in Germany on 14 November 2022, in the Czech Republic on 7 February 2023, and in Grenada on 9 March 2023.
This event was a great opportunity for our students to understand the history and culture of a vulnerable group of people (The Kalinagos) who are being threatened by the modernization of the world.