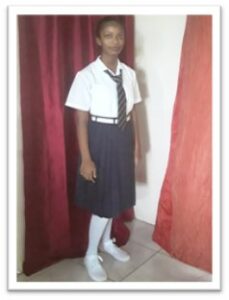 Meet Joanalie Kerina Lalite, from Dunfermline, St. Andrew with her dad. She is fifteen (15) years of age and attends the St. Andrew's Anglican Secondary School (SAASS). Joanalie is determined to succeed and make everyone who supports her proud especially her dad which is presently a single parent after losing her mom at a tender age.
Joanalie was a very shy, defenseless student and so faced bullies and pranksters who frequently teased her. However, she overcame them and soon became a confident young lady with the continued support of her family and teachers.
Joanalie is a proud Seventh Day Adventist for the past five (5) years experiencing spiritual development. She enjoys topical discussions, reading singing, outings, cooking, art and playing the keyboard which, she is very good at and is responsible for her determination to take music to another level. She will also like to become a youtuber. Despite the challenges she faced she passed all thirteen (13) subjects and was promoted to form 4. Joanalie is excelling in life as an individual and is very resilient. She is taking up leadership roles at school in assisting students with assignments. She strives for excellence each. Given the opportunity to make change in society she will encourage children to take their education seriously and motivate persons to keep their community clean and violence free.